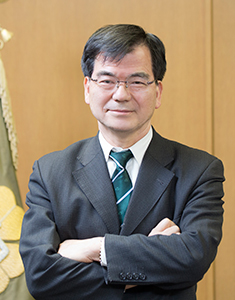 Sendai University is a unique, comprehensive sport science university.
Our university is known in the regions of Tohoku and Hokkaido as the only sports comprehensive university based on sport science. The following six departments that comprise our faculty of sport science makes our university unique. In the Department of Sport Science, you'll gain valuable coaching skills, receive valuable hands on training to develop you into a trainer and also learn about sports management. In the Department of Health and Welfare Science, you will gain the know-how on nursing care as well as health and exercise. In the Department of Sport Exercise and Nutrition, you will learn how nutrition plays a vital role in sports. In the Department of Sports Intelligence and Mass Media, you will learn relevant information focusing on topics related to sports, as well as the latest, up-to-date strategical data covering all matters of sports. In the Department of Modern Martial Arts, you will learn the general practice of "budo," Japanese martial arts in all applicable fields and sectors where public safety and security is prioritized. In the Department of Exercise Education for Children, you will learn how sports plays an integral part in the overall growth and development of a child. Suitable learning environment where you can dedicate your studies in a variety of specialized fields on the basis of sports science is provided in all the departments. Furthermore, you can attain license in teaching as a physical education teacher, a kindergarten teacher, as well as licenses for social welfare worker, health and fitness advisor and nutritionist.
"Practical science and creativeness" organization in training young adults to become an immediate asset to society
"Sports for all" is the fundamental, educational principal that we hold in high regard at our university. From the early inception of the Faculty of Sport Science and the Department of Sport Science, to the Department of Health and Welfare Science, the Department of Sport and Exercise Nutrition, the Department of Sport Intelligence and Mass Media, the Department of Modern Martial Art and its risk management and to the latest Department of Exercise Education for Children, our comprehensive sport science university is led by our diverse faculty, providing quality education and research. As a student at Sendai University, students can expect the utmost care as they prepare to become valuable citizens and a valuable asset to society upon graduation.
Training of the mind and body and the challenge of developing tough individuals with our renowned sports facilities
The educational and research tasks of our university not only lies in the support and development of student athlete's overall performance level in physical education and sports, but also in the development of both physically and mentally tough individuals, traits necessary in specialized fields of studies. With development in student athletes in mind, access to five gymnasiums, as well as an official athletic field, soccer field, baseball field, swimming pool and an ITF regulated tennis court are all in place so they can reach their full potential. Collectively, these facilities represent among the best in the Tohoku area. In addition, a valuable asset in research testing and training can be found in what we deem a state-of-the-art hypoxia-low oxygen and hyperoxia-high oxygen apparatus and training facility, which can lead to improvements in performance for student athletes. Sports and injuries go hand in hand, but fortunately we have doctors and a rehabilitation team ready to give their medical assistance and advice for those in need. A system is also in place that aids sports injuries from a scientific point of view in which sports nutrition plays a prominent role in educating student athlete's conditioning where they are able to handle the athletic load and resisting future injuries. We hope student athletes take full advantage of our internationally standardized facilities and delve deeper into the subject of sports science gaining valuable perspective and understanding the impact it has locally first and then ultimately broadening perspectives globally.
The broadening of international exchange and preparing for the Tokyo Olympic and Paralympic Games
As globalization continues to spread in the field of education and sports, the field of sports science particularly in education and research remains our focal point. Affiliation with universities from China, Taiwan Korea, Vietnam, Thailand, Finland, Germany, Denmark, America and Belarus is a testament to the importance we place in the broadening of international exchange. Preparations are underway for the 2020 Tokyo Olympic and Paralympic Games. Part of this preparation includes visits from Belarus and Palau, both participants for the big event in 2020. Local communities have agreed to host and collaborate on training camps for both countries ahead of the 2020 Games. We welcome those of you who are willing to learn the practicality of sports science into our university.
What's stopping you from knocking on our doors?
Part of my memory from a song and its lyric from the 1964 Tokyo Games "to strive for something higher, faster and stronger," still resonant to this day. We are looking for those of you striving for something better, as our doors are open to you.


President
Sendai University
Yasuo Endo